This time my pyare pahadis are those who brought the instant noodle packets into their little eateries and converted all of us into Maggi people….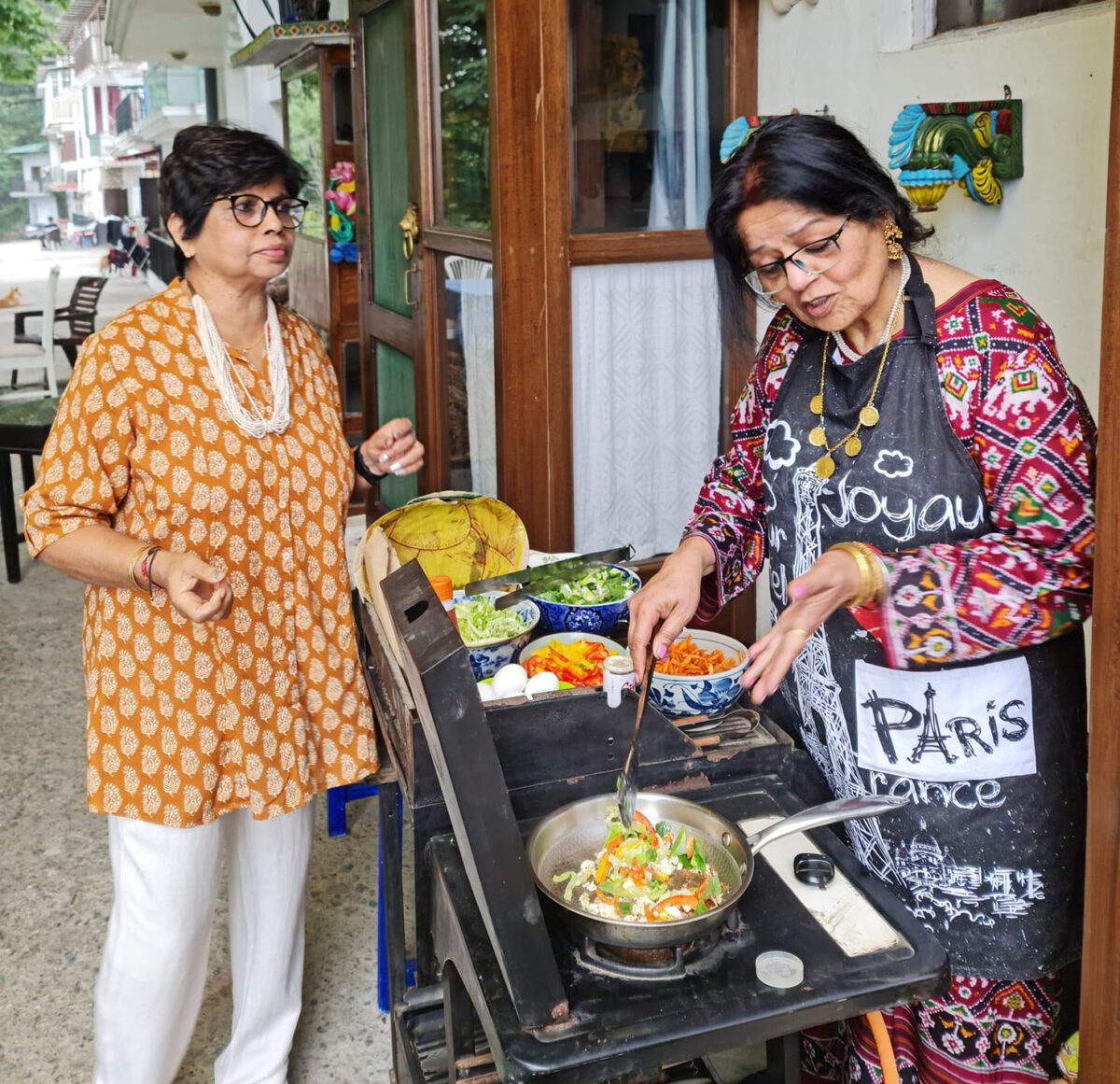 What is the famous food in Uttarakhand?
As far as I can see the list goes something like this:  Maggi or similar instant soupy noodles cooked with addons like butter, veggies, eggs, cheese… not soupy.
Bandh Omelet (Bun omelette)
Stuffed Parathas-aloo, paneer you know…
Dal Chawal
How could I miss the all mighty and popular Mo-mo usually made with cabbage, spinach and carrots
All highways, roads streets nooks and the best of hotels will serve magi. … look for the ubiquitous Maggi Point!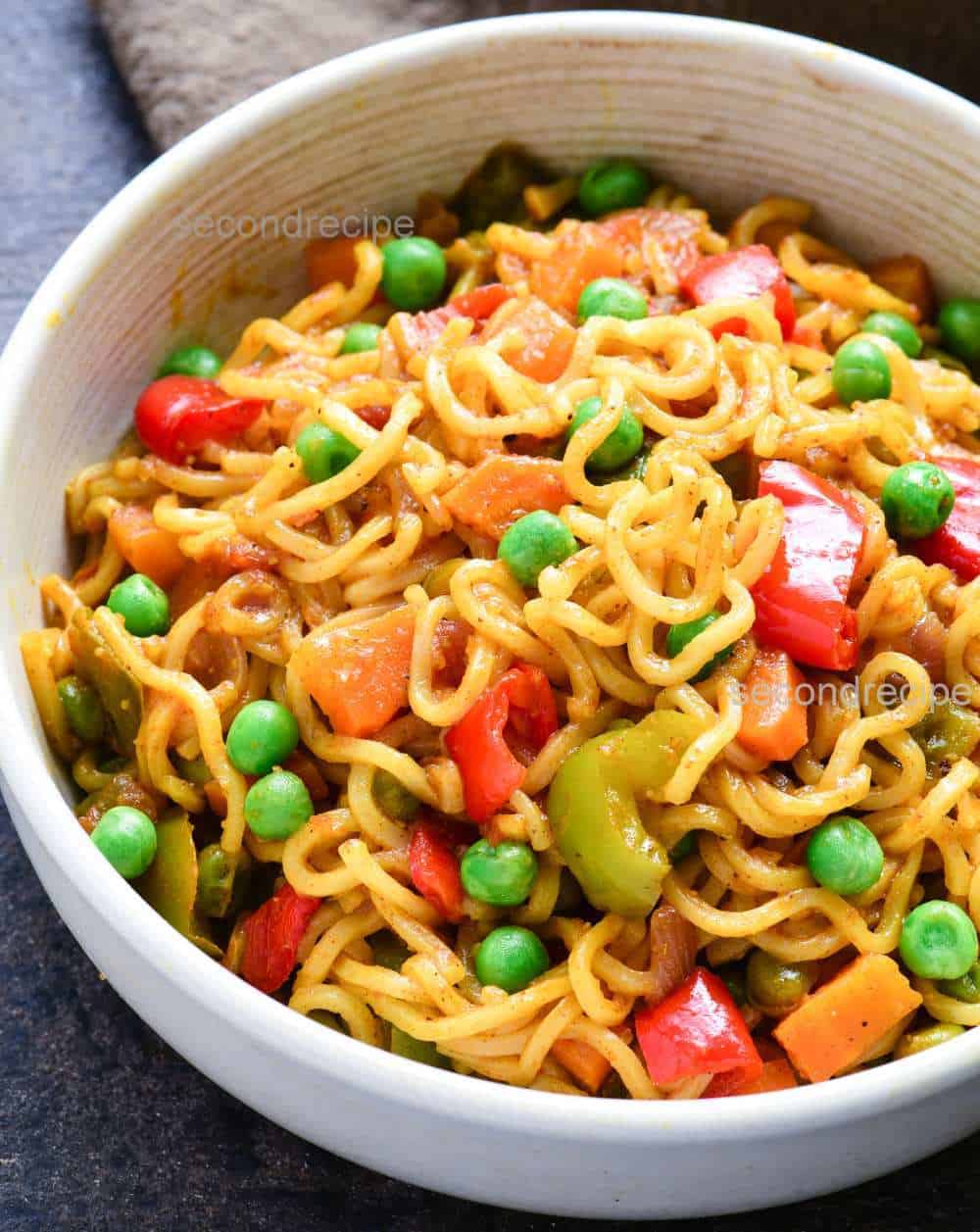 When Char Dukan (four shops) in Landour, really had only 4, there was an eating place called TIP TOP and its still the first in the row, run by Bipin. His father Pritam Prakash used to make omelettes that a successful travel writer called the best omelette in India! The buns are still dotted with sweet cherries. Surprising when there are bakeries opening up all over. Not one can make a proper flaky croissant. And the bread crumbles so I do not have toast anymore.
The taste for Chinese food is also phenomenal: It's the Pahadi Indian Chinese and chow mein is the most favourite dish in every little village and of every man woman and child… Maybe being so close to India China Border has something to do with it.?
Eating out: You might try the simple dal chawal in a steel plate : half of it is spread with white rice the other with dal and bits of onion, cucumber, etc placed on the dal… I love the Dal preparations: they mix the dals, they soak it and make it into a paste with which they make little fritters and cook it as a dal with a simple tadka. I asked a woman why they took the extra work of soaking and grinding the dal and she answered : the dal will feed 5 people but fan dal can feed 10 plus give us the pakodis …but anything more fancy, traditional or authentic might be found in restaurants like Hill-e-Ishq in Mussoorie (outskirts). Very well made and served with the owner and her mother supervising it
Our meal in Lata Nanda Devi National Park and Biosphere reserve—at the Birding Home stay
My Gourmand friend Vikas eats a Pahadi thali
For 30 years I have eaten in Mussoorie at homes or cafes and only these last few years Pahadi cuisine has made an entry officially in restaurants . Can't say what the families are eating.
Of course you will find Pahadi  "chefs" and food writers telling you about the traditional  cuisine fana bhaat , jhangora ki kheer, Pahadi Gahat (Kulath) Ki Dal, chainsoo a traditional pahadi recipe made using ground kali dal with a strong taste of coriander and garlic.
Most of the internet recipes seem awry: there is this gooey mash of oil, jeera, methi tadka then in go the onions, tomatoes, green chillies, jeera powder, dhania powder, ginger garlic past haldi namak,  red chilli powder, sometimes hing, when all this is cooked, in go the vegetables, meat, dal, murgi,  paneer whatever. They don't even always use  mustard oil. Cover the pan with water, sometimes dahi and there you are : pahadi cuisine turned gourmet food!
I blush to think how under equipped my kitchen is and yet how people and I love what comes from there. We never have dhania powder or jeera powder and for every recipe the tadka is of a different seed. God forbid I use jeera for karela or kasturi methis in potato or paneer  curry, whatever ad nauseum… (why not fresh methi leaves?)
And yet I can boast of making fish in 20 different ways from my  simple kitchen. I may not be eating the wonderful fish of  Uttarakhand like the golden mahashir, trout, cod, salmon, catfish  but we get fresh rohu and singhara
Though vegetarian food is more the culture but because of tourism and many restaurants meat chicken fish and eggs are supplied abundantly.  Like Sunil Sonker who is Mussoorie's newsman also has a meat and fish shop and he knows how to cut the meat just right too!
Himalayan Organic Jhangora (Barnyard Millet)
Jhangora or Barnyard Millet is very similar to the popular superfood   Quinoa. In Uttarakhand it is grown at an altitude of 400-2100 m above sea level. It is a good source of highly digestible protein and at the same time is least  calorie dense compared to all other cereals. Jhangora or Barnyard Millet grown in Himalyan state of Uttarakhand is one of the oldest food known to mankind. Jhangora is a superfood easy to digest due to it being gluten free,highly nutritious and non acidic form of food . Jhangora is considered to be the least allergenic & most digestible grains available. The most popular way of eating it in Uttarakhand is as a sweet kheer
Pahadi food from my kitchen
I wont fool you by saying the pahadis eat thick bajra rotis….
They eat a lot rice too.  A friend of mine introduced me to freshly made green chutneys including one with Bhangjeera yes it is bhang seeds …  I have learned other  recipes like rajma, patyuri.
Ruskin Bond goes vegetarian during the Navratri … here he is tasting  cutlets mad by Binwant, my neighbor . And he loves poori bhaji and jilebis.
There are such curious tales of Uttarakhand's berries, the ripening of kafal is announced by a bird whose song sounds like Kafal Pako… The kafal has ripened… And people say Mi ni chakho… I haven't tasted it.
There are fields of amaranth called ramdana colouring the landscape in magenta and red… another superfood.
Then there are tea gardens growing and selling tea loved in Europe… A Chinese soldier Chowffin started tea growing under the British…
Farmers are now growing kiwi and pears and apples but the old fashioned food is losing ground Let me end by saying after all is done and said I love eating like the Pahadis and you will too.