This time Shubhi's Pyare Pahadi are two singers very much the darlings of Uttarakhand.
The two stars in my life that are Singing Sensations:
Jubin Nautiyal and Darshan Farswan
I hear their songs all the time: in my car, during painting, with my friends and marvel at these Pahadi singers from Uttarakhand.
So what if he is overweight like most retired wrestlers tend to be, so what if he cant dance to save his life during concerts or in his music videos. So what if people accuse him of lifting old Pakistani qawalis of Pakistani singers? Jubin Nautiyal is a sensation now even internationally. Thank God he had enough money and perseverance to do the try try again THING. Overcoming rejections and underestimation his volcano of talent he stuck on learning training, accepting dummy assignments, hanging out in Mumbai. But he did it …we all love his voice and songs even Bollywood has opened its arms to him. He reminds me of my teens when to spike my angst I heard Talat Mahmood's ghazals –all about loss and heartbreak. His songs brought back the Qawali lilt too, rhough many were old Pakistani songs.
Jubin Nautiyal is lucky to have lent his dreamy voice to beautiful numbers like 'Bandeyaa' (Jazbaa) and 'Meherbani' (The Shaukeens). His career turning point, however, was singing Bajrangi Bhaijaan's journey song 'Zindagi kuch toh bata'.
Jubin credits his achievements to his love for good lyrics, soulful music and destiny.

T-Series' Bhushan Kumar adds, "Jubin is one of our very talented artists from the T-Series roster. His passion for doing independent music is unparalleled. Only he could have created the deeply moving Hai Pyaar Kya. I am sure his fans will cherish this love ballad done by him."
I have never met Jubin Nautiyal, haven't tried really though I live in Mussoorie now and he is from Dehradoon. There is a lot on the internet about him, he is media savvy he is topping the charts, he is handsome and stylish. You all have read all about his rejection from Musical reality shows so we will not mention them. He is now a much favoured singer and known all over India and the world with his collections.
So you must have heard Jubin Nautiyal but have you heard my favourite Darshan Farswan… its sad he sings only in Garhwali language
Darshan Farswan who has captured my heart and soul doesn't remind me of anyone: he is unique. When he sings of Shiva or Nanda-Sunanda I am mesmerized. Absolutely self taught with his mother's guidance in singing and music
Darshan Farswan is a very popular singer of Uttarakhand. He has sung Many hit songs in local language like Garhwali, Kumauni and Jounsari. He has never been a part of any Realty TV show or compettion but he is larger than life.
His First superhit song was Dadu Goriya. He became popular with this Dadu Goriya song.  Darshan Farswan is till now the sensation in Uttarakhand and among the Pahadis wherever they are. But for me he is as haunting in his style and awesome voice, style and looks but his music videos are too good too.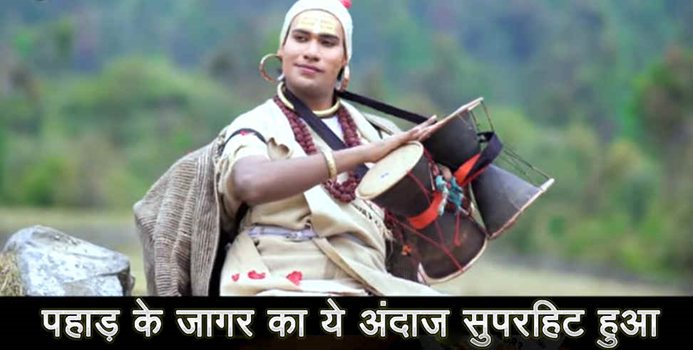 Darshan farswan started with very traditional and devotional songs of Uttarakhand with a bang: till now and sings only in the Pahadi languages presents new jagar song dadu goriya This is the real culture of the mountain, this is the real tradition of the mountain. We would like to thank the young face Darshan Farswan who has come up with a wonderful song keeping Jagar's art alive. This Jaggar Darshan Farswan himself has written and sung it himself. Within just two weeks, the song garnered over 2.5 lakh likes. Kanta Prasad, the director and producer of this song says : today all kinds of songs are being prepared in Uttarakhand and the most important thing is that young boys are connecting with their traditions and their roots. The art of Jagar, the oldest form of music in Uttarakhand. Kanta Prasad says he is happy young people found this song so appealing, shot in a very beautiful location. The question is whether today's youth has gone too far from their traditional music . Therefore, it can be called a wonderful effort to connect the youth with their tradition.
Darshan is from a remote village Ratgaon in Tharali of Chamoli. His passion for the traditional songs and music of the mountain makes him think and do something new all the time
Strangely he started with Garhwali songs dedicated to Gods and Goddesses and folk songs and now sings about beautiful girls who keep losing their jhumkas. Jubin is now singing devotional songs and Pahadi songs after winning everybody with his heart broken songs in Hindi. Loosely translated into Hindi like Khajan Dutt Sharma's, "O sathi O sathi", a Jaunsari Garhwali song. Even a version with Badshah. He is doing Bengali, Tamil, What have you, and has collections of Amritwani, Kabir's songs and other devotional albums
Farswan is for me an exotic delicious thaal and Jubin a waffle with too much chocolate sauce.